Koalas are on the endangered species list in NSW and Queensland due to climate change, land clearance, and past extended droughts. These conditions have left koalas with much reduced food and habitat. According to the International Union for the Conservation of Nature (IUCN), koalas are on the path to going extinct in regions of Australia by 2050 due to the recent effect of a bushfire that killed over 60,000 koalas. Therefore, urban koala populations, which endure a somewhat lower degree of stress, might be the key to conserving the species.
They are not threatened by bushfires or livestock conflicts like their woodland and rural brethren. Their major worries while living in or near towns or cities are getting food and other koalas to mate. For this reason, planting some of their best trees is vital to preserving this lovely species.
The distribution and population of koalas in any given location are contingent on the existence and density of the feeding tree species. A small number of selected tree species, both of primary and secondary significance, provide practically all of the food for koalas.
If major tree food species are absent or in low abundance, koalas must depend on secondary food tree species. This article will go through some of the most significant trees for koalas.
RIVER RED GUMS
River red gums (Eucalyptus camaldulensis) are native trees to Australia. It features lovely, smooth bark that is multicoloured, lance-shaped or curving adult leaves, flower buds that are grouped into seven or nine pieces, white flowers, and hemispherical fruit with valves that extend over the rim. It is used as a showpiece tree in parks and extensive gardens because of its attractive bark.
This is a beautiful tree that koalas like. Like the river red gum tree, koalas mostly need lush and juicy leaves to survive. According to a study conducted in 2006, around 36% of koalas were located in this tree.
Manna gum
Manna gum (Eucalyptus viminalis) is a species of small to tall tree native to south-eastern Australia. It is a straight growing tree that is rather tall and has rough bark on the bottom part of the trunk and at the bases of the bigger branches. During the summer, the bark sheds in long ribbons, leaving the top trunk and branches smooth white. Small cream-coloured flowers appear within the cluster of the tree. This giant native tree works best in extensive gardens, parks, and landscaping projects.
Like other Eucalyptus trees, Manna gum is also a favourite tree of koalas. Manna gum leaves' have high protein content, which is good for koalas' health. But there are also some secondary plant metabolites in its leaves. But don't worry. Microbes in the koala's gut digest and detoxify these secondary metabolites.
Blue gum
Blue gum (Eucalyptus globulus) is a tall, evergreen tree native to Australia. This tree thrives quickly and has lovely blue-green foliage in sweeping branches, making it great for cut foliage in flower arrangements.
Young leaves are blue-green and may grow up to 10 cm long. The aroma of the leaves is incredible. From late winter to early June, white blooms appear in bunches. The blooms are very appealing to nectar-eating birds and insects. Because of these characteristics, these trees are appropriate for parks and landscape projects.
Blue gums are a preferred food source of koalas. The plantation of blue gum is highly suitable for koalas, providing a habitat for them.
RED box
The red box (Eucalyptus polyanthemos) is a small to medium-sized tree native to eastern Australia. It has fibrous bark on the trunk and bigger branches that are smooth grey to cream in colour.
The leaves of young plants are oval and grey-green. The flowers are small and white, appearing from September to January. It is an excellent street or avenue planting tree that may also be utilised for shade and natural habitat in parks and gardens. Koalas love Red box trees for shelter on hot days. Koalas love to eat the rounded leaves of the red box.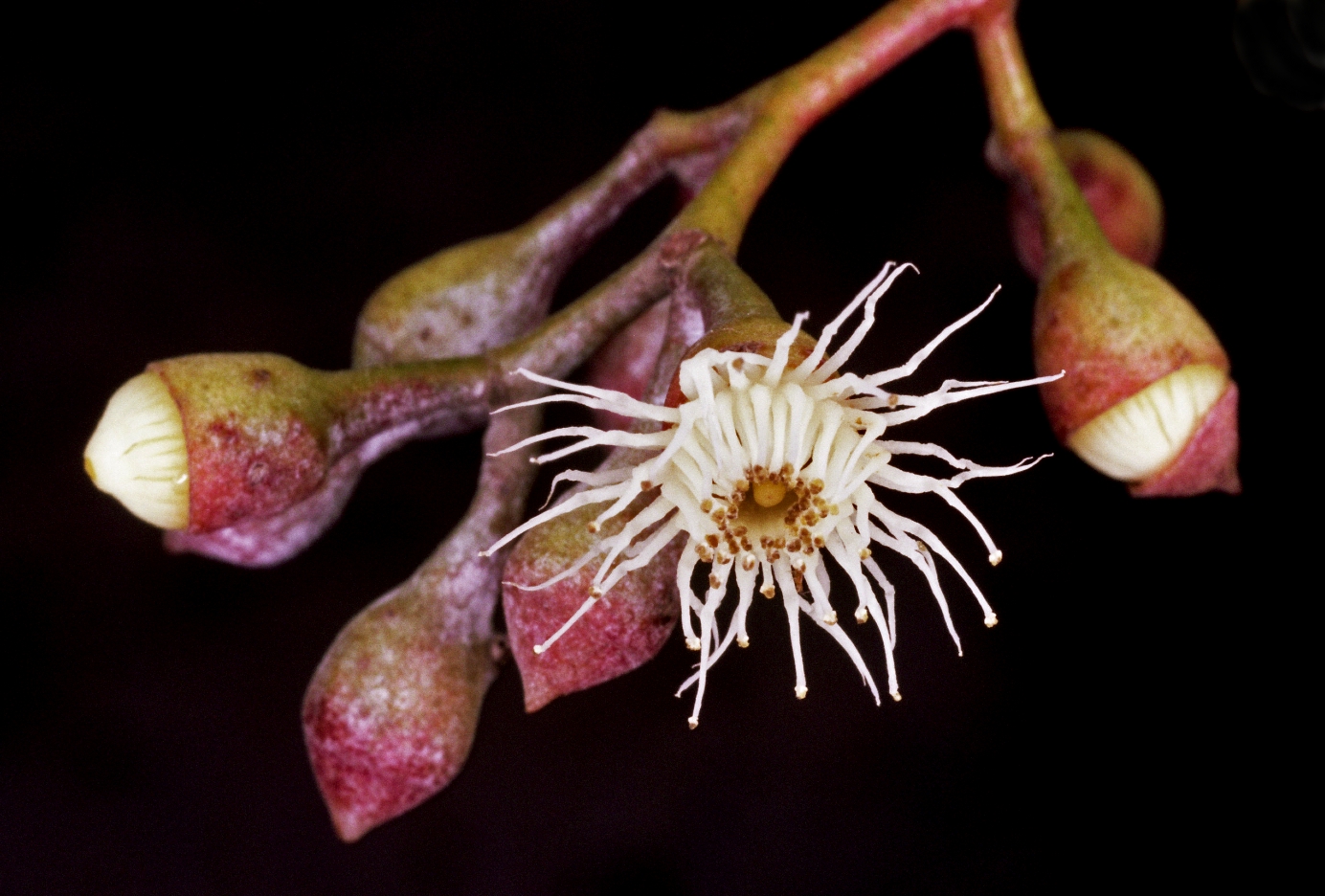 Yellow gum
A Yellow gum (Eucalyptus leucoxylon) is a small to medium-sized tree native to southern Australia. The bark is smooth and yellow, with some rough bark towards the base.
The leaves are growing vertically from an open crown. From the late autumn to the early spring, this tree blooms with white or creamy flowers. Yellow gum is a big tree that attracts birds, making it ideal for parks and extensive gardens. Yellow gum is koalas' second or third favourite tree. They also consume this tree.
The brush box (Lophostemon confertus) for Koalas
The brush box (Lophostemon confertus) is a native Australian evergreen tree. This tree has a dome-like structure and develops a very dense leaf cover of dark green, leathery leaves, offering enough shade during the warmer summer months.
This particular type does not lose its branches very often and has salmon-coloured bark that, as the summer progresses, flakes off to expose orange-brown spots on the trunk. Summer also brings a cluster of small white flowers whose stamens give them a fluffy decorative appearance. This tree is well suited for parks and gardens as a feature tree and is a great native choice that gives excellent shade.
Do Koalas eat anything other than gum leaves?
Besides eucalyptus, some other closely related Australian native trees that koalas can use for feeding and resting, such as brush boxes. This tree also provides shelter to koalas in extremely hot weather.
Koalas will eat She-Oak
She-oak (Allocasuarina littoralis), commonly known as black she-oak, is a medium-sized Australian native tree. It is a conical-shaped tree with dark, foliated bark that appears black at certain times of the year.
In the spring, this fast-growing tree displays gorgeous red male flowers. Females have little spiky cones. It is utilised to create inland gardens and streetscapes. It is also an excellent natural substitute for pine trees. She-oak is also helpful for koalas to provide them shade on hot days. Koalas also eat the leaves of this tree.
Commercial Landscaping
Horticulture is both an art and a science. Commercial landscaping is a natural extension of horticulture that includes landscape planning, design, installation, and long-term management into a finished product. The design should improve the overall appearance and reputation of your property. Before choosing a landscape design, consider how you want visitors to engage with your property and what you want them to think about your company. When planning your design, consider how your landscape will look after it has grown, considering the placement and size of the trees and plants. Have a clear understanding of the amount of maintenance needed by your chosen design. A landscaping specialist may also recommend low-maintenance plants and trees to deliver the practical advantages you need. Councils are now considering the koala's habitat and food requirements much more in their landscape design of public spaces.
Landscape design
Landscape design is the study, planning, and creation of outdoor living areas. Landscape design nowadays incorporates a broad range of features to create functional and attractive outdoor living areas. Professional landscape designers provide a wide variety of planning and design services to meet the demands of their clients. Hiring a landscape designer may create outstanding design solutions while avoiding expensive errors and additional complexity. Well-executed landscape design improves the pleasure of a property and the actual square footage of a crucial functional area. With careful design and expert installation, outdoor living spaces may be an excellent investment. Studies indicate that intelligently designed outdoor areas may boost a property's value by up to 20%. It is up to the landscape designers as well as property owners to design areas with food species to suit koalas.
---
More Information on Trees Species for Koalas.
Trees and habitat on the Mornington Peninsula
Best Trees to Plant in Victoria