Romsey Ecotherapy Park
Romsey is a town in Victoria, Australia, that is part of the Shire of Macedon Ranges local government region. It is 61 kilometres north of the Melbourne CBD. The population estimate for Romsey, as of June 30th, 2021, is 4,380.
The Romsey Ecotherapy Park is located in Romsey, Melbourne, on the corner of Main and Palmer streets.
Establishment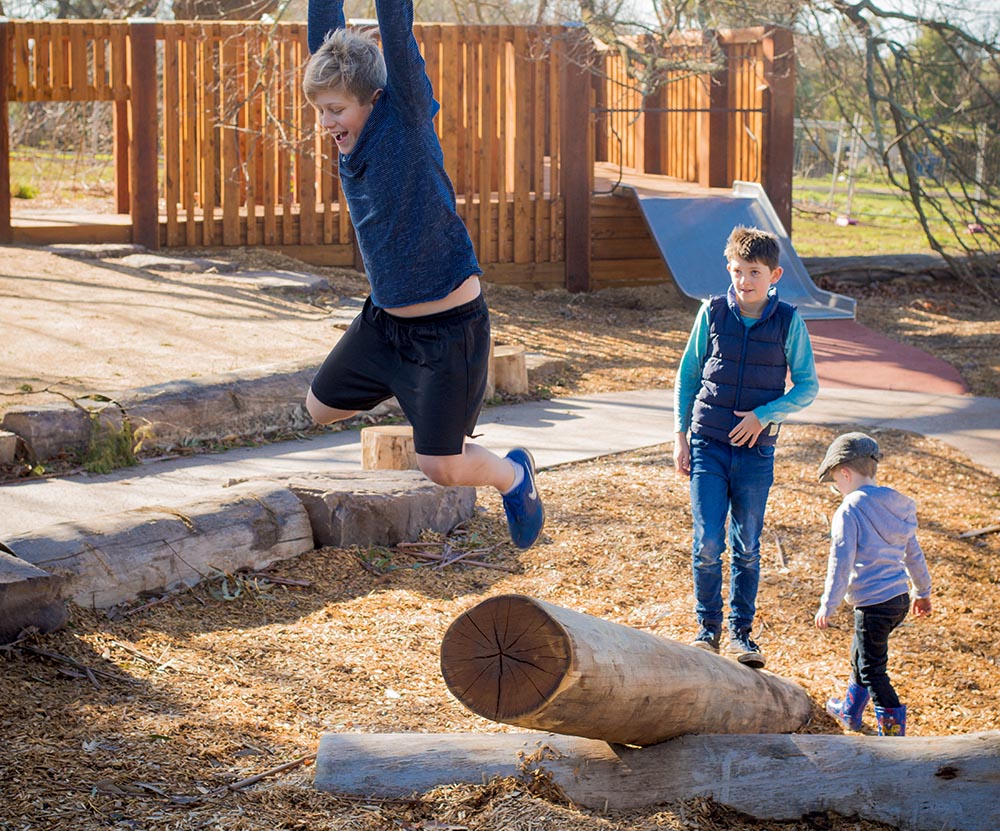 The Romsey Ecotherapy Park Inc. committee (REP) initiated a community-led campaign to create a welcoming and freely available recreational open space for local residents and regional visitors. The design focuses on offering a unique sensory and rehabilitative experience to people of all ages and abilities through interaction with nature.
The City of Romsey Council purchased the former Romsey Primary School site from the Department of Early Childhood and Education and Training in September 2015 in support of local community efforts to create an all-abilities park.
The Department of Early Childhood and Education and Training sold the former Romsey Primary School land to the Council in September 2015 in support of local community efforts to develop an all-abilities park.
Importance to the community
Romsey Ecotherapy Park was created to provide a variety of active contact and physical challenges for both children and adults. The Romsey Ecotherapy Park's mission is to develop a sense of community while also encouraging a connection to the environment as a means of improving health and well-being.
A community space and park that serves as a key meeting point for inhabitants and visitors to the region who want to engage with nature. This one-of-a-kind all-inclusive nature environment is designed for people of all ages and abilities to explore, play, and discover.
Romsey Ecotherapy Park landscaping
The Romsey Ecotherapy Park landscaping was completed in 2019. It was completed for the Macedon Ranges Shire Council. The experience we had at this facility was simply amazing, and this is why we are highly excited for the second stage.
"The Romsey Ecotherapy Park is a different all-inclusive nature space for people of all ages and physical abilities to explore, engage and play with and discover nature.
It is a unique, nature-based healing space located in the Macedon Ranges which is almost an hour from Melbourne. It is just a stone's throw from Spa and Daylesford.
The Park is constructed not only to excite and entertain children and people of all ages but also to provide sensory incitement and healing space for relaxation and reflection for all ages.
Being Located on the old Romsey Primary School site, the fascinating school building and grand old oak tree remain, honoring Romsey's heritage. The site reinforces the Park as a place to assemble and strengthen community links." – Romsey Ecotherapy Park Website.
Park landscaping
Landscape design not only improves the appearance of your yard but also increases the value of your home. Landscape design and maintenance, on the other hand, is not an easy undertaking for homeowners. This is especially true if you lack the necessary time or experience. Let Red's Landscaping company take care of the dirty work. We are a landscape contractor. We provide a number of services that will undoubtedly improve the curb appeal of your home, park, or garden.
Landscape Architecture
Red's Landscaping company creates your landscape based on the present look, lifestyle, and preferences of your home. We collaborate closely with you to design a yard with plants, hardscape, and other features that highlight your home's natural beauty.
Maintaining Your Lawn To keep a lawn looking clean and healthy, it must be maintained on a regular basis. For your grass and soil, our commercial lawn and landscaping service uses high-quality equipment and fertilizer. Throughout the year, we ensure that your lawn is thick, homogeneous, and disease-free.
Exterior Lighting
After a long day, do you want to relax and take in the beauty of your surroundings? Are you interested in hosting regular nocturnal gatherings at your home? Outdoor lighting must be both attractive and functional. Even at night, we design our solutions to bring out the best features of your landscape!
Sprinkler Installation and Repair Sprinklers are a quick and easy way to keep your grass moist. Sprinklers are strategically placed throughout your yard by our crew to provide optimal coverage. Give us a call if your irrigation system isn't working properly, and we'll fix it as quickly as possible.
Removal of trees
Even if you wish to retain a tree that has been growing in your yard for years, if it is diseased or damaged beyond repair, it will be an eyesore. You can enlist our assistance in safely and efficiently removing the tree from your property.
Tree Pruning and Care Allow our tree care staff to take care of your tree if you don't have the time or capacity to keep it healthy and safe. We utilize high-quality tools and supplies to keep your tree disease-free and away from your roof and power lines all year.
---
Project founded by freemasons_official
Plants supplied by thenursery. co
Media Release from Member for Macedon Mary-Anne Thomas
Red's Landscaping YouTube Channel