After hugely successful installations in Zwolle and Giethoorn in the Netherlands, plastic roads and paths are about to become mainstream. Now, two years after the concept was first tested, a team of plastic road specialists are taking the idea global, with Australia the next step on their journey.
Plastic roads? Is it as simple as it sounds?
There's more to this concept than first meets the eye. Yes, the roads are made using plastic rather than asphalt, but it's actually recycled plastic that elevates this product to the next level. As well as the plastic surface that road users will see, Aussie engineers will be able to access the prefabricated hollow space that is carefully designed for a whole range of purposes, like cable transiting, piping, road heating, generating energy, and moving water through. The circular economy played a major part in the design, and so these roads are both recycled and recyclable, not that they have a short life span, in fact, their designers expect that plastic roads will perform for three times as long as asphalt.
What are the advantages of plastic roads for Australians?
● The lightweight and prefabricated hollow space allows more road to be built and faster, with ease of transport, and easier maintenance that is required less frequently
● With the lifespan being 3 times longer than asphalt, Australian roads and tax dollars can go further, for longer!
● Almost no deterioration from weeds and bad weather, and can handle constant traffic and safely drain water
● Noise-reducing, as the material absorbs more sound than asphalt
● Highly sustainable design using mostly recycled plastic, reusable and recyclable components, and based on the Cradle to Cradle and Circular Economy principles
● Effective hollow space design which appeals to civil engineers, with the increased functionality also making it plausible to innovate the roads for renewable energy capturing in the future
● Helping to tackle the problem of plastic waste, which is just as big a problem in Australia as in other countries
What problems are plastic roads tackling?
Of course, primarily the roads are tackling the faults of asphalt, but the secondary benefits go way beyond and contribute to a better society. Issues such as plastic waste, extreme weather, better mobility, quality urban development, crowded subsurfaces, and more can be addressed. Asphalt is not terrible, but it does not offer modern solutions to modern problems, and contractors, municipalities, provinces, and water authorities want more functionality and innovation from their roads.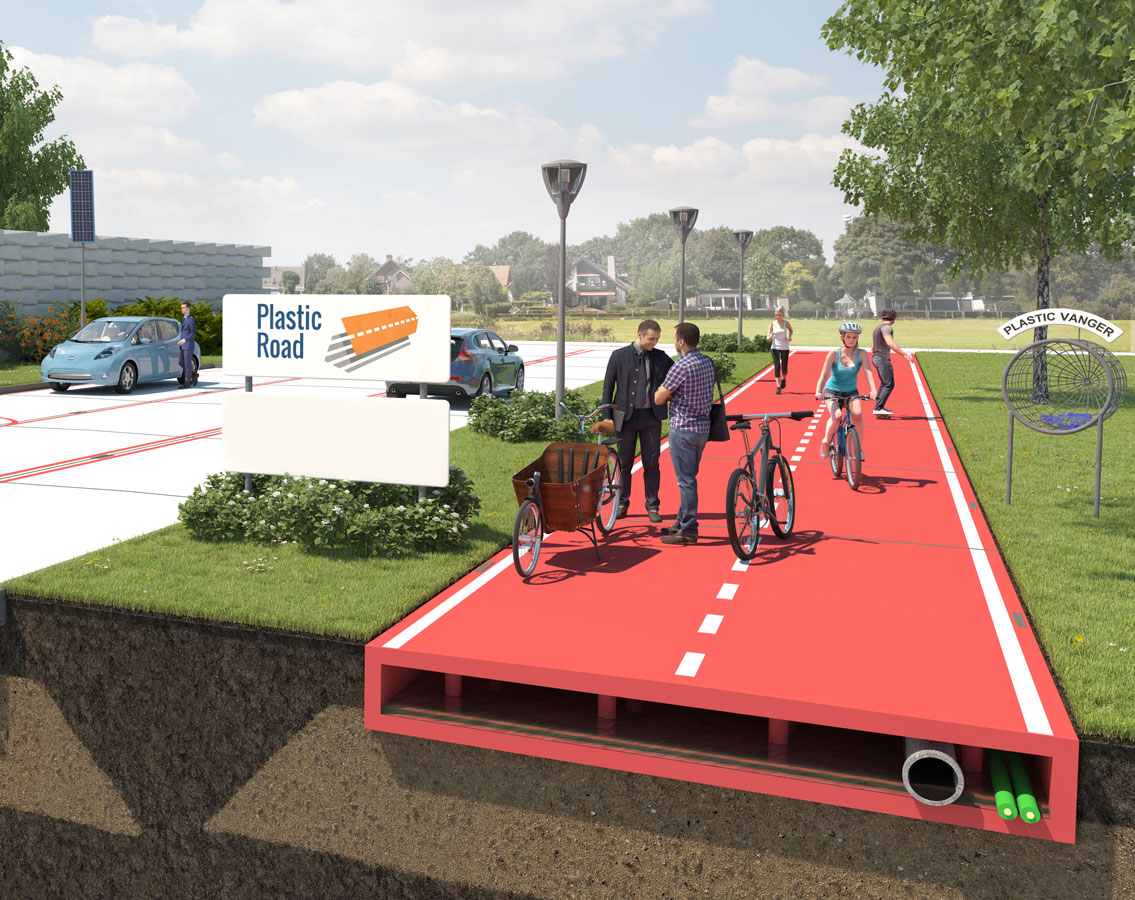 How sustainable is this idea?
Here at Red's Landscaping Melbourne, we're keen to vet our supply chain, to assess our products, processes, and materials, and to ask big questions about sustainability to find better answers. When we heard about the plastic road concept, naturally it caught our attention.
The sustainability factor is high, because:
1. Plastic roads source a lot of recycled plastic for their manufacturing. In one of the trials in the Netherlands, 1,000kg of recycled plastic was used for a 30m cycle path. Scale that into a decent length of road surface and millions of tonnes could be sustainably utilised high up in the chain
2. The carbon footprint of recycled post-industrial plastic is much lower than asphalt, with manufacturers arguing a 50-70% reduction in CO2 emissions. As the production of the roads increases and processes scale, this percentage will improve even further
3. The innovation is based on the Cradle to Cradle philosophy, with elements of the Circular Economy also used as inspiration
4. The roads can be recycled at the end of their lifespan and turned into more plastic roads!
5. Plastic roads can be built directly on top of sand, saving the resources that would usually be used for a foundation. Australia has a lot of sand, so this is a big plus
6. Transporting the components for a plastic road is much easier and less energy-intensive than asphalt, and in fact, requires 85% less transport overall
Who is making the product?
Australia will welcome a collaborative team from PlasticRoad, KWS, Wavin, and Total in the first quarter of 2021 to begin industrial manufacturing.
Is this project unique, or is Australia trialling other road innovations?
In New South Wales, another plastic road project is underway, with the NSW Environment Protection Authority approving the use of Downer's Reconophalt road surface product. This material also uses some recycled plastics and has been extensively tested to ensure that there is no release of microplastics or BPA leaching into the environment. As well as recycled plastic, the road mix contains toner, glass, and reclaimed road.
The recycled plastic is post-consumer, with a community network sourcing material from Coles, Woolworths, schools, councils, and businesses, with the help of Redcycle and Plastic Police. The first trials back in 2018 were a big victory for sustainable road surfacing and since then, roads have been laid in Australia Capital Territory, New South Wales, South Australia, Tasmania and Western Australia.
Downer's General Manager of pavements, Stuart Billing, is quoted as saying:
"We have invested significantly in research and development over a long period of time and I am incredibly proud of our team's commitment to deliver a product that is environmentally safe, sustainable and outperforms standard asphalt. Even after a road has been laid with Reconophalt, the pavement is perpetually recyclable, providing a truly circular and sustainable solution for communities and generations to come. To us, it's all about pulling products, not pushing waste."
Final thoughts
Red's Landscaping Melbourne are keen to see more and more sustainable innovations popping up around the country, giving a good indication that the construction and engineering industries are looking at their projects and asking tough questions.
---
Related Landscaping Articles from Red's Landscaping Melbourne
7 Reasons to Choose Concrete Pavement
Tennis Court Construction Balwyn Community Centre
5 Reasons For Using Recycled Plastic Composites
Eco garden: Gardening Made Easy
Eco Pools: Nature pools for the eco conscious
7 Great Reasons to choose Permeable Concrete
13 Best Reasons To Preserve Balwyn Urban Wetlands
---
More information on Plastic Roads
Downer's Reconophalt road surface product
More information on plastics recycling