Your front yard is visitors' and passersby's first impression of your home, and it deserves to make a statement. Whether you want to enhance the kerb appeal, create an inviting outdoor space, or revitalise the aesthetics of your house, we have you covered. In this blog, we will explore various landscaping design ideas, tips and trends specifically tailored to front-yard landscaping in the beautiful suburb of Kew. Kew is approximately six (6) kilometres east of the Melbourne Central Business District (CBD) and is part of the City of Boroondara local government area. Kew is known for its tree-lined streets, beautiful gardens, and large public parks that offer extensive gardens, walking paths and recreational facilities. So, get ready to transform your front yard into a stunning showcase that reflects your style and enhances the charm of your home. Let's dive into the world of landscaping design in Kew.
This front yard landscape in the Kew perfectly combines softscaping and hardscaping. Both the landscape elements have been used very well, which adds to the property's aesthetic value and attracts people's eyes.
FRONT YARD HARDSCAPING ELEMENT
Concrete floating steps
Concrete floating steps are precast or poured structures used for ascending or descending in a stair-like manner. Concrete steps at the entrance of a landscape offer numerous benefits. They provide a durable and long-lasting solution, enhancing the aesthetic appeal. Concrete steps also ensure safety and easy access, especially during inclement weather conditions, requiring minimal maintenance.
At the entrance of this property in the Kew, concrete steps were used, which are 1.89 m long and 0.4 m wide and fifteen in number. These elegant concrete step slabs create a defined path leading visitors to the entrance. Curves are incorporated to make the entrance more interesting.
Concrete Path Design
A concrete walkway in your  landscape can be practical and visually appealing. It offers a clear path for navigating through the garden, prevents trampling on delicate plants, and adds structure to the overall design. The concrete walkway also provides a resilient and long-lasting surface that is resistant to wear and tear.
In this landscape design in Kew, the front garden is separated from the residence by a concrete walkway approximately 1.2 m wide. This white-coloured walkway presents a very beautiful scene with green plants behind it. A concrete walkway has been built along the house's outer wall, which adds to the house's beauty.
Driveway with dark cobblestone finish
Dark cobblestone typically refers to a type of stone with a dark, usually grey or black, colour and a rough texture. It is commonly used in outdoor hardscape projects such as driveways, walkways and patios to create a rustic or vintage look.
A well-designed driveway in the front yard landscape is important for several reasons. It provides a designated vehicle area, improves accessibility, enhances kerb appeal and adds structure.
The driveway in this front yard landscape in Kew has a dark cobblestone finish, which can bring several benefits to this custom design landscape. The dark colour adds visual interest and contrast, creating an elegant and sophisticated look. The rough texture of cobblestone provides good traction and enhances safety for vehicles.
Front yard Fences
A fence is a key feature of landscaping. A fence will go a long way in keeping your outdoor space private, stylish and offer protection for children and pets, preventing them from wandering off or encountering potential dangers. Therefore it is necessary to border your front yard with stylish fence ideas that enhance privacy without compromising on great design.
A vertical metal fence is created around this front yard garden in Kew, Australia, which provides a sleek and modern aesthetic that can complement contemporary architecture. The vertical orientation of this fence creates a sense of height and openness while maintaining privacy. Its black colour provides a striking contrast against the surrounding and enhances the visual appeal of the landscape.
FRONT YARD SOFTSCAPING ELEMENTS
A well maintained lawn
Maintaining a well-groomed lawn holds significant importance. It enhances the kerb appeal of your property, making a positive first impression on visitors and passersby. A well-maintained lawn provides recreational activities and relaxation space, boosting mental well-being. Regular upkeep of your front yard lawn showcases your pride in homeownership and creates a welcoming atmosphere for all.
This front yard landscape at Kew also features a well-maintained lawn. The lawn is designed in a slopping manner which enhances the beauty of the property. Various grasses, shrubs and trees are planted around the lawn due to which aesthetics and functionality of the front due to which aesthetics and functionality of the front yard enhances.
NATIVE GRASSES IN THE FRONT YARD
Grasses in the landscape design can be a brilliant addition to landscaping, providing structure, beauty and privacy. Grasses can help define the boundaries of the front yard and provide a sense of structure to the overall landscape design. They can be used to create borders, edges or pathways, adding visual interest and organisation to the space. Below are the grasses used in this front yard landscape in Kew.
Austrostipa scabra
Rough spear grass (Austrostipa scabra) is found in all states of Australia but predominantly in the southern half of the continent. Austrostipa scabra has a unique appearance with its slender, spiky leaves and attractive seed heads. While it may not have the lush appearance of traditional lawn grasses, it can add a distinct and natural touch to your garden. They are known for their resilience and drought tolerance, making them suitable for front yard gardens in regions with limited water availability.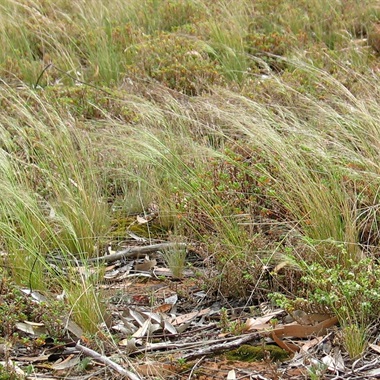 Pennisetum nafray
Pennisetum nafray, also known as purple fountain grass, is an excellent choice for a front yard garden. This ornamental grass is known for its striking purple foliage and graceful arching growth habit. The purple foliage of the Pennisetum fray adds a bold and vibrant splash of colour to your front yard garden. The grass's arching habit creates a graceful and flowing appearance, visually contrasting other plants in your landscape.
Liriope royal purple
Liriope royal purple, also known as lilyturf or monkey grass, is popular for front yard landscapes due to its attractive foliage and low-maintenance characteristics. Liriope royal purple is known for its deep green, strappy leaves with a purple tinge, adding a pop of colour to the front yard. It forms clumps of grass-like foliage, creating a visually pleasing ground cover that can complement other plants and landscaping elements.
FRONT YARD BUSHES, SHRUBS AND GROUND COVERS
Planting one of the best shrubs for the front of the house in the front yard will imbue the entrance to your home with character and personality, creating structure, a refuge for wildlife and a frame for the front porch. Introducing greenery and foliage to the front yard will increase the kerb appeal, while adding flowering bushes will bring beauty and fragrance in equal measures. Here are the bushes used in this front yard landscape at Kew.
Myoporum parvifolium
Myoporum parvifolium, commonly known as creeping boobialla or myoporum, is a versatile and popular choice for front yard gardens. It is a low, spreading shrub with long, trailing stems and white, star-shaped flowers and is endemic to southern Australia. Its small, elliptical leaves have a glossy appearance, adding visual interest to the landscape even when the plant is not blooming. This plant can be used in various ways, such as ground cover on large areas, edging along pathways and in containers.
Buddleja davidii
Buddleja davidii, also called summer lilac, butterfly bush, or orange eye, is a species of flowering plant in the family of Scrophulariaceae. It is known for its beautiful, long spikes of colourful flowers that attract butterflies, bees and other pollinators. It comes in various colours, adding a vibrant touch to your front yard landscape. In addition to visual appeal, Buddleja davidii emits a sweet and pleasant fragrance, adding an aromatic dimension to your front yard.
Salvia leucantha
Salvia leucantha, the Mexican bush sage, is herbaceous perennial plant in the Lamiaceae family. Salvia leucantha is prized for its striking appearance. It features long, arching spikes of velvety purple or lavender flowers with white calyxes, adding a splash of vibrant colour to the front yard landscape and enhancing its overall beauty. Its extended bloom time ensures a continuous display of flowers, providing visual interest and colour to the front yard during a season when many other plants have finished blooming. It can be used as a focal point or as part of a mixed planting scheme to add texture and variety to the front yard design.
TREES
The trees in the front yard garden can change a house into a warm and inviting residence. Trees have beautiful flowers in the spring, bright fruits and berries in the summer, and beautiful leaves in the fall. A tree in the front yard can also give privacy, absorb noise pollution, and attract beneficial species. Planting a tree is a great idea if you want a striking focal point in your front yard. The following are the trees used in this front yard landscape at Kew.
Olea europea
Olea europaea, commonly known as the olive tree, is a highly versatile and aesthetically pleasing tree that can benefit the front yard significantly. Olive trees have a beautiful Mediterranean elegance that can enhance the kerb appeal of any home. Their grey-green leaves and gnarled trunks add a new factor to any front garden, creating wonderful architectural interest. Incorporating a well-maintained olive tree into your front yard garden can enhance the kerb appeal of your property and increase its market value.
In this front yard garden in Kew, olive trees are planted along the sides of the concrete path, creating a beautiful entrance to the property and adding a sense of harmony and sophistication to the overall landscape.
Acer palmatum
Acer palmatum, commonly known as Japanese maple, is a woody plant species native to Japan, China and Korea. It is a popular and highly valued tree species for custom design landscapes. Acer palmatum is renowned for its stunning foliage, which comes in various colours, especially during fall. The delicate, palmate leaves and graceful branches create an eye-catching focal point, adding visual interest and enhancing the overall aesthetics of the front yard landscape. Japanese maple offers changing visual appeal throughout the year. They produce delicate, often red-tinged new foliage in spring, transitioning to rich green during the summer. In fall, the leaves undergo a captivating transformation, displaying various vibrant colours that bring autumn beauty to the landscape.
Japanese maple offers changing visual appeal throughout the year. They produce delicate, often red-tinged new foliage in spring, transitioning to rich green during the summer. In fall, the leaves undergo a captivating transformation, displaying various vibrant colours that bring autumn beauty to the landscape.
CONCLUSION
This front yard landscape design in Kew, Australia, presents a unique and exciting opportunity to blend the rich natural beauty of the region with creative and thoughtful landscape choices. The lush greenery, diverse plant life and favourable climate of Kew provide a perfect canvas for property owners to create enchanting outdoor spaces that enhance the beauty and value of their property. By incorporating native Australian plants and carefully selected exotic species, they have created visually appealing landscapes that attract wildlife and promote biodiversity. Also, thoughtful use of hardscaping elements, such as paths, concrete steps, concrete walkways and driveway, can enhance the aesthetics and functionality of the front yard. From the stunning blooms of native plants to the graceful foliage of Japanese maple, this custom landscape design in Kew offers breathtaking beauty. By adopting sustainable practices and eco-friendly principles, the property owners have created stunning outdoor retreats and contributed to the preservation of Kew's natural beauty.
With a harmonious blend of design creativity, environmental consciousness, and appreciation for the region's unique character, landscapes in Kew are truly captivating showcases of artistry and nature's splendour. As the community embraces these principles, Kew's beautiful landscapes will continue flourishing as captivating, sustainable and inviting spaces for years.
3D Landscape Rendering Package
The 3D Landscape Rendering Package from Reds Landscaping & Design partners provides high quality As Built Drawings and 3D landscape rendering services in Melbourne, Australia. We have a team of highly skilled and experienced professionals who are dedicated to providing our clients with the best 3D Designs. We use the latest technology and software to produce accurate and realistic drawings and renderings of the design, and we do everything we can to ensure that our clients are entirely happy with their project before, during, and after it is completed.