Eco-friendly concrete, as the name suggests, is a kind of concrete that is relatively environmentally friendly. It is not just a single type of concrete, but rather one of at least four different types of concrete.
Is Concrete Eco Friendly?
Concrete is a major contributor to the production of the world's greenhouse gases through the production process of cement. As per some research, almost 1 ton of carbon dioxide is produced for every 1 ton of cement produced. Researchers, in order to make construction a sustainable industry, have been coming up with a number of solutions. Some of which are discussed today.
Using Waste Products in Eco-Friendly Concrete
This includes the usage of waste materials like Fly Ash, Blast Furnace Slag, Husk Ash and much more. These waste products are difficult to recycle and therefore scientists and civil engineers have started to partially replace the portland cement content with these waste products.
This strategy is effective in two ways. Not only are they using these waste products, but they are also reducing the production of portland cement.
A concrete mix, for instance, uses 20% Fly Ash by the weight of cement, which translates to 20% less Portland cement used in that product. A simple logic of 'lower demand = lower production'.
Research studies show that the resulting concrete, especially when made with Fly Ash (FA) and Blast Furnace Slag (BFS), results in a stronger and more durable concrete since it has better resistance to chemical attacks.
"Colliecrete concrete can use up to 80 to 90 percent of recycled material as its cement component," he said. Hopes a new eco-friendly concrete can rise from the ashes of coal power – ABC News
The concrete made with Blast Furnace Slag also has a lower pH which is ideal for artificial reefs. Recent research has shown that concrete made with BFS can host higher alga on the surface as compared to conventional concrete when used as an Artificial Reef.
Self-Healing Eco-Friendly Concrete
Eco-Friendly Concrete, which is also known as "green concrete" or "environmentally friendly concrete," is much more than using waste products. Innovative materials like self-healing concrete can also be a part of it. Self-healing concrete is also known as "live concrete" because it fills its own cracks by itself. This healing of cracks is achieved with the help of bacteria, fungi, and/or chemicals and promises a longer service life. A longer service life means the structures are going to stay for a longer time, therefore reducing the construction life time costs. Less reconstruction means less production of cement.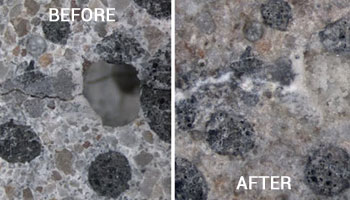 Cracks in concrete provide a passage for water and gases, which can make their way inside the concrete. The problem with the intrusion of fluids is that it can take other chemicals along with it. Sulphates and chlorides are prime examples. They tend to attack the Concrete and Steel – Sulphates are common to trigger Sulphate attack while chlorides, together with oxygen, can cause steel corrosion.
Carbon dioxide ingression, on the other hand, actually makes concrete stronger. Such concrete, in which carbon dioxide has made its way deep, is called carbonated concrete. This reacts with Calcium Hydroxide – the alkaline part of concrete—and produces calcium carbonate that is actually stronger than the former. But the latter is not as alkaline as the former and therefore reduces the pH of concrete and, consequently, its resistance to acid attacks.
Self-Healing Concrete is currently being utilised in a number of projects and is finding practical uses in many different applications.
Carbon Dioxide Absorbing Eco-Friendly Concrete
Similarly, there are other concrete types like Carbon Dioxide absorbing Concrete. This Concrete type absorbs Carbon Dioxide that comes into contact with its surface, therefore making this environment a bit better.
Research on Carbon Dioxide Absorbing Concrete is still under way. Carbon Dioxide gets its way inside the concrete and produces Calcite (Calcium Carbonate). Although this reaction makes concrete stronger, it reduces the PH. The alkaline layer around steel reinforcement protects the steel from acid attack, which can cause corrosion of steel. Once corroded, the steel would expand and cause stresses inside the concrete, which might result in cracks.
The applications for such kind of concrete are still under discussion and the scientists are currently working to come up with a viable option.
Recycled Aggregate Concrete
On the other hand, it is also important to realize that demolished concrete is also recycled since landfill is not a viable option anymore. The demolished concrete is crushed and then used again as aggregate in new concrete; the resulting concrete is called Recycled Aggregate Concrete.
Recycled Aggregate Concrete usually has a little lower strength, less workability, and lower resistance to chemical attacks as compared to conventional concrete. But with recent research, the gap is getting smaller and soon recycled aggregate concrete will be as good as conventional concrete.
Another kind of recycled concrete is currently under research at different universities. The University of Tokyo, Japan, for instance, is currently working on using demolished concrete with zero cement. The demolished concrete is crushed and brought into powder form, which is later compressed with the right amount of water for lubrication. The powder is compressed into the desired shape, which can later be used for a number of purposes.
The compressive strength of such kinds of concrete is not comparable to conventional concrete since most of the strength comes from mechanical compression and hardly any chemical reaction occurs between the particles. The cement particles from the demolished concrete are usually unable to hydrate—hydration is the reaction of cement and water, which in turn produces hydration products like Allite, Bellite, and Portlandite, which provide strength and alkalinity.
Commercial Landscaping with Eco-Friendly Concrete
Melbourne concrete suppliers, Outwest Concrete, have a range of more sustainable concrete products using materials that would have otherwise ended up in landfill. Outwest Concrete makes clever use of blast furnace slag, recycled aggregates, fly ash, and recycled water to make a more sustainable, eco-friendly concrete that is ideal for commercial landscaping applications.
---
Related Information from Red's Landscaping and Civil
7 Great Reasons to choose Permeable Concrete
Eco garden: Gardening Made Easy
Concrete Swimming Pool Construction and Design.
5 Reasons For Using Recycled Plastic Composites
Plastic Roads, the next step for Australia?
Concrete – 9 things Melbourne Landscapers need to know.
---
References and more reading about Eco-Friendly Concrete
References
Boral Bulk Cement Fly Ash and Slag
Engineers Australia – New Cement Durable and Eco-Friendly
Wagners – Earth Friendly Concrete