To understand Drought Tolerant landscaping, we need to first understand some of the technical terms in the world of soil chemistry and how that affects drought tolerance.
"Plant Available Water" "PAW" Is the amount of water in the soil that is available for the plants and is between the water capacity and the plant wilting point or crop lower limit.
"Plant Available Water Capacity" PAWC is the maximum amount of moisture that can a particular soil can hold.
1.     Organic Matter helps drought tolerant landscaping.
Whether you have a clay soil or a sandy soil, your garden will benefit from organic matter. The soils ability to hold moisture will increase with the addition of organic matter. The additional organic matter works in two way. Firstly, organic matter has a higher water holding capacity than mineral soils. Secondly, the organic matter improves the soil structure allowing moisture to pass through the soil to the plant roots. In some cases, doubling the amount of organic matter in the soil can result in around 25% more water storage capacity.
Soil Texture and Composition
Soil texture and composition also has a big effect on water storage capacity. Sandy soils with low percentage of clay and low percentage of organic matter are very poor at storing moisture.
Imported Topsoils
Often Imported Topsoils, purchased to landscape your garden, will be sandy loams. These are great soils for high traffic lawn areas, especially for the top 50mm of soil. If using imported topsoil for garden beds, mix the soil with some of the existing soils by cultivation of the subsoil to boost the clay content. This can also be done with the subsoil layers of the lawn areas. Also, order Imported Topsoils with a good percentage of organic matter included in the mix. Always use imported topsoil to Australian Standard (AS4419 Soils for Landscaping & Garden Use) and use mixes with higher levels of organic matter for garden beds.
The Effect of Clay in your garden soil
Clay soils can hold much more moisture than sandy soils. The fine clay particles are less than 2 microns, but there are so many clay particles in clay soils that the total surface area is much higher. The fine particles however, make it more difficult for the plant roots to penetrate the soil to extract the moisture. This results in the increase in the plant wilting point in high clay soils. Again, organic matter will help improve the texture of the soil so that roots can penetrate to access the moisture. If you have a reactive clay soil, then cultivating gypsum into the soil will also help.
2.     Mulch
According to a study by the University of Florida, mulch can reduce water losses by evaporation by up to 30%. Mulch however, does much more than just reduce evaporation. By rotting down into the topsoil, mulch adds to the organic matter in the top layer of soil. Mulch also greatly reduces erosion of the topsoil and helps to keep plant roots cooler by reducing the sun's heat radiation into the lower layers of the topsoil. Mulch also plays a role in suppressing weeds, but if weeds do grow, they are much easier to remove.
Groundcovers
Groundcover plants can play a similar role to mulch in reducing the heat penetration into the soil and reducing evaporation from the soil.
3.     Drip Irrigation System
There was a time when an irrigation system meant garden sprinklers spraying huge amounts of water everywhere. This led to a great deal of wasted water with much of the spray landing on paths and driveways. Evaporation of the water from the surface of the garden was another cause of waste. Modern computer controlled closed loop drip irrigation systems are much more efficient.  With modern irrigation systems, water be delivered directly to the root tips.
Water supplied to where it is most needed.
The plant uses osmosis to absorb water from the soil. The root hair cells, which are mostly near the root tips, are adapted for taking up both water and mineral ions. Part of this adaption is the large surface area of the root hairs exposed to the soil. Older root hairs tend to die off, so most of the living root hairs are concentrated near the root tips. Placing the irrigation drippers near the root tips means that water can be absorbed more efficiently.
Closed loop computer control irrigation systems
Modern computer-controlled systems use feedback from remotes sensors to determine the water requirements for plants on each channel. Depending on the systems, sensor measure soil moisture, temperature, humidity and rainfall to estimate plant water requirements. Some new commercial irrigation systems in agriculture are using Artificial Intelligence or Machine Learning to irrigate crops more efficiently.
4.     Drought Tolerant Plants
Many plants have evolved to cope with dry conditions or the occasional drought. This includes many Australian Native Plants, Mediterranean Garden plants or plants from the dry parts of America and especially Mexico.
Drought tolerant Australian Native Plants
Amongst the Australian Native plants, Xanthorrhoea (Grass Tree) and Anigozanthos (Kangaroo Paw) have outstanding ability to survive in dry sandy soils.
There are also many Australian Native grasses like Lomandra that are great for dry conditions. Our favourite plants dry conditions in Melbourne gardens are the following;
Star Jasmine (Trachelospermum jasminoides) – The Star Jasmine is moderately drought tolerant once it gets established. This evergreen climbing plant can be grown either as a vine, that can grow to more than 6 metres high, or as a ground cover. It can be grown in either partial shade of full sun.
Climbing Fig (Ficus pumila) – The fast growing climbing fig is tolerant to salt spray, drought and partial shade. This makes it a great plant for coastal gardens in suburbs like Hampton. It will grow to more than 5 metres under ideal conditions and can also be grown as a ground cover.
Waterhousia Floribunda or Weeping Lilly Pilly – Generally, the Lilly Pilly is a hardy and drought tolerant hedging or screening plant once it is fully established. It is a great Australian native alternative to the buxus hedge or Murraya. Despite being a rainforest plant, Waterhousia floribunda will survive a few dry spells once it is fully established. This is one of our favourite Australian drought tolerant plants.
Salvias like Salvia Leucantha (Mexican Sage Bush) are generally very drought tolerant. There are only a couple of salvia varieties that are not drought tolerant. The Leucantha is an Autumn flowering perennial which can add colour to your Melbourne garden in early May. Salvias can handle subtropical as well as temperate climates. This makes them a good plant for temperate climates like Melbourne.
Lomandra Longifolia "tanika" is a hardy Australian Native grass that looks great and is tough as well as drought tolerant. With attractive blue-green foliage and yellow flowers in Spring, it is ideal for mass planting, but can also be planted in individual tufts.
Poa labillardierei (Common Tussock Grass) is another hardy Australian Native Grass. It will grow well in most soils, but will enjoy some moisture during summer. It can be cut back hard then heavily watered to create new growth. The long green leaves will turn a little silver in dry weather. It will flower from October to March with purple-green flowers.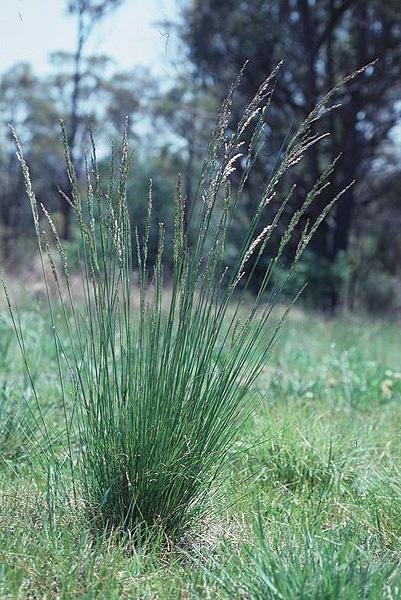 5.     Soil Wetting agents
The breakdown and decomposition of some organic matter will result in a waxy coating on some soil particles. This makes the soil hydrophobic. This is much more prevalent on sandy soils than clay soils. The obvious solution is to treat the garden with a surfactant or wetting agent before rain.
A less obvious solution is to spread a little garden lime on the hydrophobic soil. The garden lime will do two things. Firstly, the increased PH will encourage bacteria that will break down the waxy material. Secondly, it will add fine particles to the soil. Some types of clay are also useful for reducing surface tension in the water droplets.
As part of the move towards greater sustainability, Landscape Architects and landscape designers are looking at methods to reduce fresh water consumption in commercial landscaping. These methods include rain gardens, blue roofs, rainwater storage with irrigation drip systems and, perhaps most importantly, drought tolerant Australian Native Plants.
Related Landscaping Ideas from Red's Landscaping Melbourne
7 Great Salvia plants for your Melbourne Garden
5 top Landscape Design trends in Melbourne
Salvia Leucantha or Mexican Bush Sage
5 top tips. Landscaping Melbourne with Lomandra.
Melbourne Topsoil – 9 Great Money saving tips.
---
References and further reading on Drought Tolerant Landscaping
The Impact of Mulch on evaporation – University of Florida
The Garden Professors – Mulch for reducing Evaporation.
Drought Tolerant Australian Native Plants
Royal Botanical Gardens Victoria Growing Indigenous Plants.
Water repellency – Soilquality.org.au
Help your garden survive a drought.
---
Blogs to Follow @RedsLandscaping
https://medium.com/@redslandscaping/
https://redslandscapingau.wordpress.com/
https://redslandscapingau.blogspot.com/
https://redslandscaping.edublogs.org/