Concrete pavement is the most durable, strongest, and cost effective road surfaces readily available. It also has an important niche in commercial landscaping. Technically speaking, is one of two major pavement types: flexible pavements and rigid pavements. In this news article, we shall talk about seven reasons why concrete pavements are a better choice, especially when it comes to commercial landscaping.
Bituminous, or asphalt, pavements and roads have layers of material that transfer the load directly to the sub-grade. They are called flexible pavements since the pavement structure bends and deflects when under traffic loads, thereby providing a load tolerance as compared to concrete pavements.
Rigid pavements, like concrete pavements, are usually reinforced with steel. They are stiffer when compared to asphalt roads due to the comparatively high modulus of elasticity of reinforced concrete. It is for this reason that the pavement will transfer the load over a wide area of the sub-grade. This results in much lower stress levels in the sub-grade and increases the road's durability.
Concrete pavements usually act as concrete slabs and therefore transfer the load to a larger area, creating a lower stress. Concrete pavements, therefore, are usually thinner as compared to asphalt pavements [1]. This can be a great advantage when there is infrastructure under the road that the commercial road maker needs to avoid.
1.    Longevity of Concrete Pavement
Concrete pavements usually last longer. On average, concrete pavements can last for 20–40 years, as compared to 10-15 years of flexible pavements. These numbers are estimated for pavements under high traffic loads. With commercial landscaping pavement, the lifetime of the road can be even higher [1].
2.    Ease of Construction of Concrete Pavement
As discussed earlier, concrete pavements distribute the load directly to the sub-grade or base course, in some cases, as compared to multiple layers of asphalt pavements. Such layers are difficult to prepare since special types of construction materials and machines are required.
The construction of concrete pavements is comparatively easy. No heavy road roller machines are required, and the concrete material can be pumped in. This makes concrete pavement the ideal solution for the construction of roads over basement car parks.
Additionally, concrete pavements are designed using scientific approaches and equations rather than empirical ones, which are still used for certain asphalt pavements. Bitumen, required for asphalt pavements, comes in different grades depending on the weather conditions, which can be a hectic process. Concrete comes in different grades based on its strength but is easily available due to its vast usage in the construction industry [3].
1.    Low Maintenance concrete pavements
A concrete pavement hardly requires any maintenance and/or repair unless subjected to loads higher than it is designed for. In the case of commercial landscaping, the concrete pavements are not subjected to any high loads and therefore require almost no repair or maintenance as compared to their counterparts. Asphalt pavements, on the other hand, are prone to damage not only when subjected to higher loads but also when they are in contact with oil and/or other chemicals, unlike concrete pavements [4].
2.    Lower Reliance on Pavement Sub-grade
Concrete pavements, unlike asphalt pavements, rely less on the subgrade material and more on the flexural strength of the concrete. The subgrade, if it fails or is weak at certain parts of the pavement, does not affect the concrete pavement since it works as a slab. It can ignore certain imperfections in the subgrade without affecting the quality of the pavement. Asphalt pavements, as compared to their contenders, would require repair in such cases due to their high reliance on subgrade. Therefore, the subgrade should be of high quality in the case of asphalt pavement [4].
3.    Surface Characteristics
A good concrete surface is free from potholes, rutting, and/or corrugations. These problems do come in localized failures, which are avoidable in concrete due to its slab nature. The aforesaid problems are commonly faced when dealing with asphalt pavements [5].
4.    Impervious Layer
Concrete pavements are impervious and provide better sealing as compared to asphalt. Water tends to penetrate and affect the lower layers of the asphalt [5]. This is another great reason to use concrete construction over subterranean basements.
5.    Innovative
With concrete being the most used construction material, a lot of research is conducted which deals with making concrete better. Innovations like self-healing of concrete, permeable concrete (aka pervious concrete), etc. prove that concrete is the construction material from the past that is going to stay with us in the future [6]. Commercial landscaping can be the first industry to try out such innovative concrete types since the pavements in this industry are exposed to very high loads and such innovative concrete types can perform better in such conditions.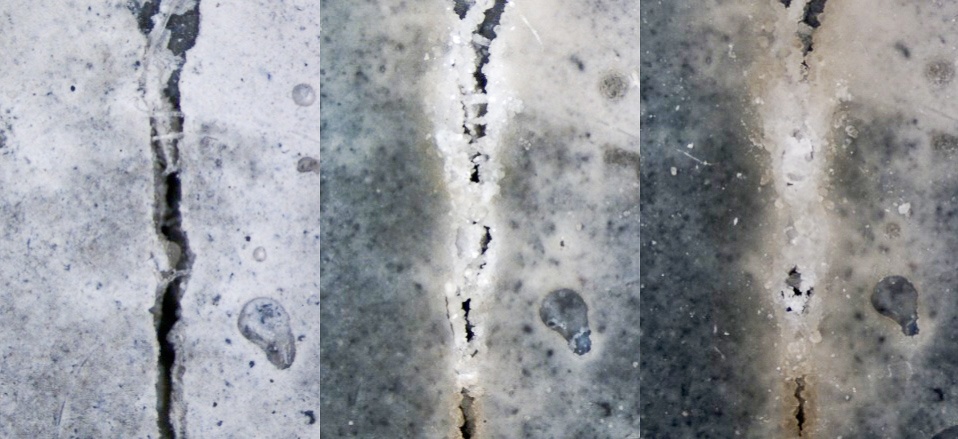 Additionally, concrete tends to provide better visibility as compared to asphalt pavements, which are black in colour and provide poor visibility, especially in the dark. Concrete is also easily available in bags which require mixing with water only or available from concrete plants which can pour concrete in a small time frame. Admixtures can be added to achieve special requirements such as air-entraining agents can be used to avoid freeze and thaw damage in areas where the temperatures can drop to a freezing point.
Innovative concrete pavement decorative finishes
One of the greatest advantages over asphalt is the enormous range of modern decorative finishes available. One of the most widely used decorative concrete finishes in both residential and commercial landscaping is exposed aggregate concrete. The aggregates are available in a wide range of colours to suit your landscape design. The available colours include red, brown, dark grey basalt, green quarts, as well as black and white. In combination with this selection, the fine grain aggregates or sands are also available in a wide range of selections. The colour of this fine aggregate will also be more dominant when the surface is lightly abraded.
Contact us for your next concrete pavement project.
---
Related Commercial Landscaping News from Red's Landscaping Melbourne
4 types of Eco-Friendly Concrete
3 Best Types of Concrete Retaining Wall
3 Best Concrete Path Construction Techniques
7 Great Reasons to choose Permeable Concrete
---
Blogs to Follow @RedsLandscaping
https://medium.com/@redslandscaping/
https://redslandscapingau.wordpress.com/
https://redslandscapingau.blogspot.com/
https://redslandscaping.edublogs.org/
---
Old dogs and new tricks: making roads work harder
ABS statistics – HISTORY OF ROADS IN AUSTRALIA
---
Concrete Pavement References
[1]      "Pavement Types – Pavement Interactive." https://pavementinteractive.org/reference-desk/pavement-types-and-history/pavement-types/ (accessed Oct. 01, 2021).
[2]      "Difference Between Flexible And Rigid Pavement | Engineering Discoveries." https://www.engineeringdiscoveries.net/2019/07/difference-between-flexible-and-rigid.html (accessed Oct. 01, 2021).
[3]      Neenu S K, "Difference Between Reinforced Concrete (RC) and Steel Structures." https://theconstructor.org/building/difference-between-reinforced-concrete-rc-steel-structures/35075/ (accessed Apr. 23, 2021).
[4]      "Difference Between Flexible Pavement And Rigid Pavement." https://dailycivil.com/difference-flexible-pavements-rigid-pavements/ (accessed Oct. 01, 2021).
[5]      "Difference Between Flexible Pavement and Rigid Pavement | What is Pavement | Types of Pavement -." https://civiljungle.com/difference-between-flexible-pavement-rigid-pavement/ (accessed Oct. 01, 2021).
[6]      J. Yang and G. Jiang, "Experimental study on properties of pervious materials," Cem. Concr. Res., vol. 33, no. 3, pp. 381–386, 2003, doi: 10.1016/S0008-8846(02)00966-3.
[7]      S. R. Tabiyar, D. V. R. Patel, and K. Nair, "A Review on Experimental Study of Bacterial based Self-Healing Concrete," 2018.
[8]      "Carbon Fiber Reinforces Pervious Concrete | Fluence." https://www.fluencecorp.com/pervious-concrete-with-recycled-carbon-fiber/ (accessed Oct. 01, 2021).